There's a couple new projects to put up. One qualifies under the furniture heading, the other, not as much, but just as fun.
Project #1 - Veneered Wall Clock
Layout: The base is a 1/2 inch piece of plywood with an applied mahogany veneer. The hour detents [available from your local Ikea] are measured with a 360 degree compass, and pre-drilled.
Veneer: A coat of wood glue is applied to both veneer and plywood, allowed to dry and then adhered with a conventional clothes iron.
Finish: A coat of Tried and True linseed oil makes this clock look great!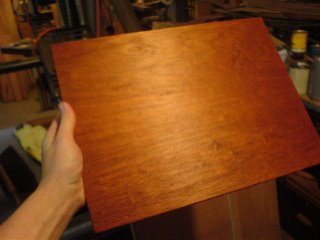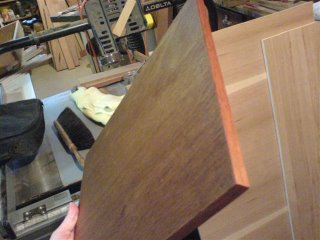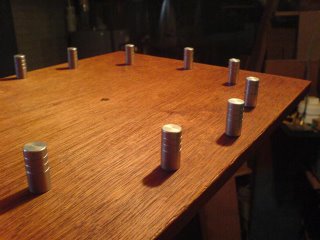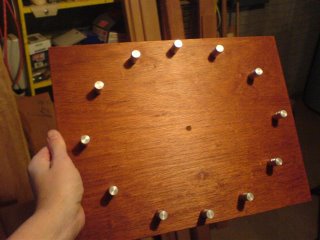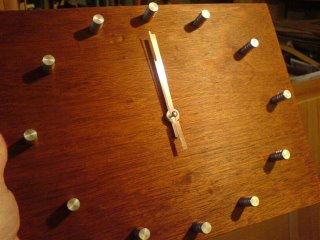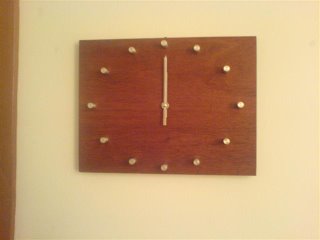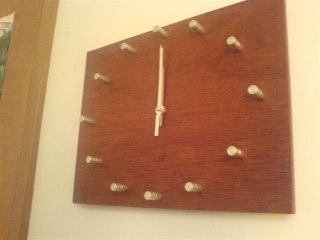 Project #2 - UHF HDTV Antenna
I'd say that this antenna is based on the one here:
http://uhfhdtvantenna.blogspot.com/
but I copied it exactly. I've improved it in no way what so ever. It works amazingly well. Better than a store bought amplified antenna. Mounting it in the attic helped immensely, more than doubling my reception.
Best of all, this cost zero dollars. I'm not joking, zero dollars. I built this antenna with supplies I had laying around the house.
I'm running an
Avermedia MCE A180
HD tuner card with
http://watchhdtv.net/
software. Runs great on my Athlon XP 3000+ with a gig of ram. I'd really need a faster processor to run the higher overhead of the Avermedia software.
Here's the parts list
1 - 16" by 30" piece of plywood
1 - 3 foot long 2x4
1 - roll aluminum foil
4 - wire coat hangers
10 - screws and washers
1 - 4 feet of wire
1 - 75 ohm to 300 ohm converter (available at most electronics stores)
Additional materials are tape, mounting screws and coax cable long enough to get between your receiver and antenna.
Clip the coat hangers up, take the tops off and cut the bottom right in the middle. Once you have the 8 "V"s you can hang them next to each other and clip off any extra long ends. I don't know how much uniformity helps you with antennas like this, so I just tried to be as precise as possible. The "V"s are as similar as I could make them, the layout is symmetrical, and the connection to the coax cable is right smack in the middle.
Don't forget to flip the wires at the top and bottom. Again, I'm no antennaist, so I'm just following the existing plans.
Getting the aluminum foil taped to the board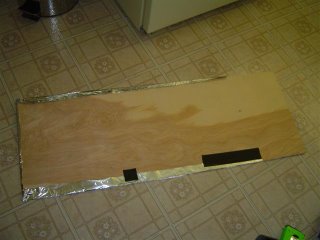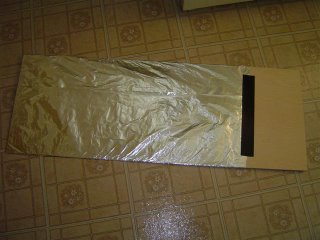 Mount the 2x4 to the back board with a couple screws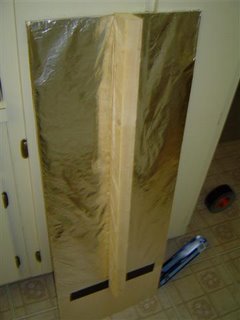 Here's the wires, stripped to contact the washers and coat hangers. Screw everything together.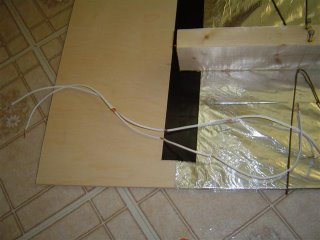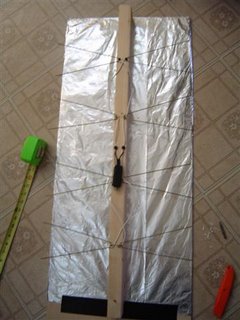 Here's the antenna in my living room. It's pulling in 35% to 75% signal strength on most stations. Looks good huh?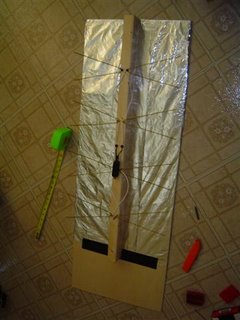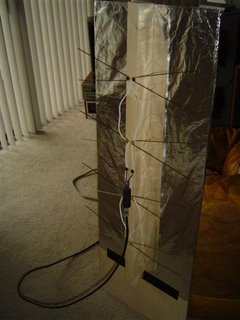 Take a look at that precision alignment! Mount as high as possible in your abode. Check out
http://www.titantv.com/
for a list of channels in your area. Use
www.Antennaweb.org
to find out which way to point your antenna. You might want a compass for this, not completely necessary though. I just happened to have one. Now I'm pulling in 25+ channels hitting 100% signal strength on most of them. Wow, what a difference this thing makes!